Meet Rachel Durand - our newest Teammember
We are pleased to introduce our new colleague Rachel Durand. Rachel is French and has broad international research- and working experience within the marine industry. She loves fish and is curious on how we can improve health and develop new products from resources in the ocean.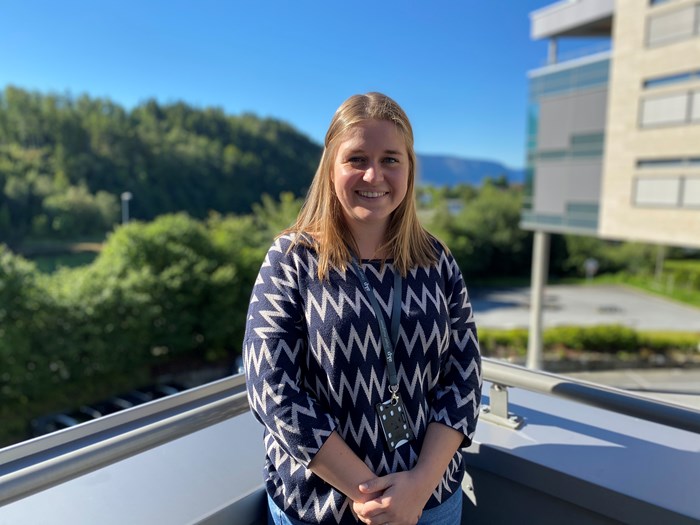 Rachel lives in the centre of Ålesund and works at NMK. She looks forward to getting to know the members of the marine cluster, the surroundings of Ålesund and the marine industry. We have asked her some questions regarding her first impression of her new position:

Please describe your position and what you will be working with at NCE Blue Legasea: 
I am in charge of the Marine for health project that seeks to support and commercialize high value marine ingredients. My role is to be a key resource for our members to improve their competitiveness and help them build projects and networks with new partners. Gathering different stakeholders of the marine ingredient field is also an important task. 

What is the title and content of your thesis, and how can the members in the marine cluster benefit from your research? 
The name of my thesis was "Fish by-products use as food supplement for human health: bioactive compounds separation by electrodialysis with ultrafiltration membranes and screening of their bioactivities to reduce metabolic syndrome."
The main aim was to improve the use of herring milt by developing a new healthy marine ingredient and identified new bioactive compounds.
The food supplement market is really competitive and innovative. New products, new raw materials and new applications are key to improve the industries' competitiveness. My thesis suggest new ways and markets for the members of the NCE Blue Legasea cluster. 

 What kind of knowledge and competence can you bring to the members of the marine cluster? 
During my PhD I have acquired strong knowledges about fish by-products valorization and their uses as food supplements. Norwegian industries are leader in the Omega 3 market, my researches mostly focus in marine proteins and can bring a new market to the members.
Also, my PhD was in partnership with a private company, so I am used to deal with academical and economical objectives. I really like working with the scientists and the industry and build projects together to improve knowledge about marine ingredient application.   
How will you prefer to create contact with the members of the marine cluster? 
I really like to meet in person people and going directly to the company is for me the best way to understand their expectations from the cluster. But with the coronavirus situation we have to change our habits, so digital meeting could be an alternative. 

What kind of international experience will you bring to your current position? 
I studied in different places: France, Caribbean Island, Northern Ireland and Canada. So, I developed an international network. Also, I worked three years in Quebec (Canada), with a Canadian company. 

What kind of events do you think are relevant and beneficial for the marine industry? 
I think to create project businesses, the better events are the B2B conventions which brings together different stakeholders and companies. Meeting people directly is still the best way to create partnerships and businesses.
Symposiums can also be relevant to improve our knowledges on a specific field and build a new network.
But now, digital events are really useful to gather from other places and be able to put in touch different stakeholders. 

How can your network bring new opportunities to NCE Blue Legasea? 
With my background, I have built a European and Canadian network in different fields especially marine ingredient and bioactive compounds for human health. Also, as BioMarine community manager I was in charge of developing an international network in marine biotechnology. During this experience I met several stakeholders of the marine field and discussed how to improve the blue economy worldwide. 

What is your first impression of the marine industry in Ålesund? 
The marine industry in Norway is really different from France or even from Canada. The capacity of the fishing fleet and the different fishing methods are very impressive and completely different. Also, unlike France where mostly of the fish is sold directly for the French territory, I was surprised to observe that Norwegian fish are mostly exported.