Den gylne melke
Without knowing it, the pelagic fish process industry is seated on an unsuspected golden mountain: the herring milt.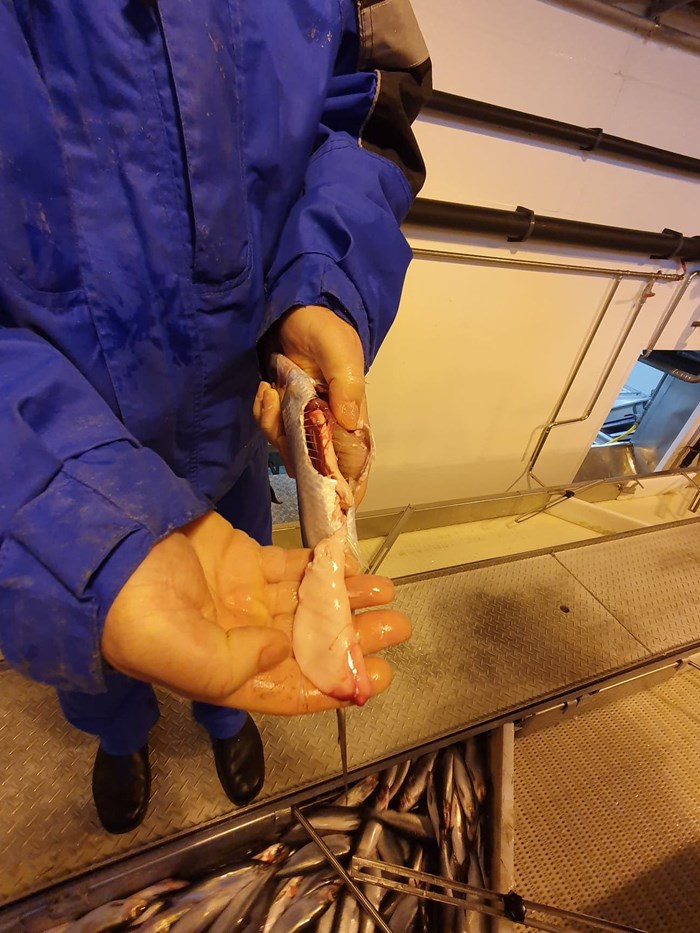 Picture: Herring milt out of the fish (picture from Janita Arhaug, NCE Blue Legasea)
This article was first published in Norwegian in Tekfisk.


A huge amount of potential
Herring is the most fished species in Norway with a total catches of 561 299 tons (Norwegian spring-spawning herring + North Sea Herring), representing an economical value of 2 573 570 000 NOK in 2019, according to the Norwegian Directorate of Fisheries. But after processing to remove the fillet, between 50% to 60% of the fish are discarded as by-product as the heads, the guts, the bones and the milt. Unfortunately, they are traditionally used to produce fish meal for aquaculture with a rather low economical value on the market. However, part of these by-products, they throw away an underestimate raw material : the herring milt. Even if the consumption of fish milt was something common in our grandparent's times, nowadays only a few populations around the world eat it: British fry herring milt also called "melts" in a pan and Japanese consume traditionally raw cod milt called "Shirako". After a few calls in Norway, Iceland, Canada and Denmark, I realized that the lack of automatic processes and market documentation were the reasons why industrials did not use the milt as a high-value ingredient. In Norway, herring milt represented an approximate amount of 28000 tons in 2019 with high economic potential due to its chemical composition : proteins, lipids, omega-3, all the essential amino acids and DNA. But how to improve the use of this old raw material rejected and forgotten by consumers?
A raw material good for your health.
The western diet, rich in fat and sugar, contributes to the development of obesity linked to the risk type 2 diabetes and cardiovascular diseases increase. To prevent these disorders development, diet modifications and physical activity are recommended. Also, some specific compounds as polyunsaturated fatty acids and peptides from herring milt could have some effects against these disorders. During my thesis completed at Laval University (Quebec) in the team of Dr. Laurent Bazinet, we studied the health effects of three different herring milt hydrolysates in obese mice induced by a high-fat high sucrose diet. Gave at low doses (208mg/kg) to reproduce a food supplement takes by a human, we reported some effects on the glucose metabolism, microbiota diversity and liver gene expression of mice. Indeed, herring milt hydrolysates improved blood glycemia without changes in weight gain and insulin secretion, suggesting an indirect effect such as inflammation reduction in several tissues. Moreover, the increase of Lactobacillus in the gut microbiota of obese mice may also have contributed to the improvement in glucose tolerance. In the last decades association between gut microbiota diversity and metabolic diseases such as diabetes have been documented. The repair of the intestinal flora is a new market for marine ingredients and there is more and more prebiotic products available on the market. Also for the first time, our study reported an increase of gene involved in the glucose metabolism in the liver of obese mice, suggesting that herring milt hydrolysate stimulate glucose transport. These new areas, open the way for new applications of herring milt as a valuable product.
Identification of healthy compounds
Food supplements are complex mix of several compounds. But to develop a new product with health effect, the identification of specific active molecules and their target of actions is needed. So, in the second part of my thesis, we used a method more ecological and accurate to separate peptides from herring milt hydrolysates depending on their electrical charges and weights. With this new technique, we were able to identify two new anti-inflammatory peptides and to improve the health effect of herring milt by removing inhibitors compounds contained in the mix. These studies highlighted the potential use of herring milt as a high-value ingredient. According to the World Health Organisation, in 2016, 39% of the world population were overweight and this number increases every year. So, the development of products preventing metabolic disorders linked to obesity from marine raw material is a huge market for the Norwegian industry.
A need for documentation
According to the World Health Organisation, in one century, the leading causes of death have shifted from infectious to non-communicable diseases, such as heart disease and stroke. Health spending increased rapidly and societies are struggling to afford cost-effective and feasible treatments for the prevention and treatment of disease. Marine ingredients could be a part of the solution and the development of a Norwegian health industry based on ocean. But to get these valuable marine ingredients out to the consumer takes regulatory approval from authorities which requires time and expertise. Also, the food supplement market is a highly competitive market and marine ingredient producers need to pay more attention to health claims and documentation of new products if they want to get the consumer trust. To support companies in this regulatory process, Marine For Health project's purpose is to establish national and international competences within health and nutrition. The project focus also on increasing the scientific expertise in health effects from marine resources.
When it comes to herring milt, we have a great faith that there is an untapped potential here, and therefore we have together with member companies initiated a project that Møreforsking is now working on.