WebiMar; High value utilization of marine raw materials
Kurs This module focuses on potential innovative and advanced technologies used to extract bioactive components from marine raw materials. Emphasis is put on innovation and sustainability in regard to methods and technological processes.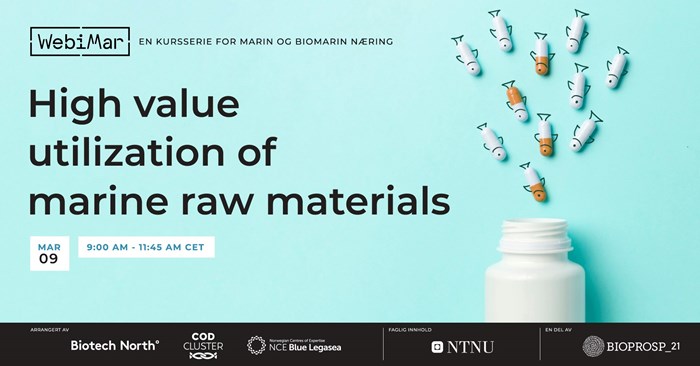 Register HERE
The module is adapted to participants from marine clusters who have basic competence in the field of marine ingredients and processing of seafood raw materials.
The speakers are national and international researchers from various Academic and R&D environments who disseminate results from their recent investigations.
The entire module will be conducted in English as a part of BioProsp21
Program:
Duration

Topic

Speaker

9.00 - 9.15

 

Introduction given by cluster leader and moderator

 

Wenche Uksnøy, Blue Legasea

 

Janna Cropotova, NTNU Ålesund

9.15  - 9.45

 

 

Marine raw materials and side streams – potentials

Turid Rustad, NTNU Trondheim

9.45 - 10.15

 

Traditional and innovative methods used for extracting bioactive components from marine raw materials and side streams

Janna Cropotova, NTNU Ålesund

10.15 -10.45

 

Valorisation of seafood by-products through the extraction of chitosan by using ultra-sound

Silvia Tappi, Universita di Bologna, Italy

10.45 -11.15

 

Extraction of valuable compounds from fish raw material by using innovative technologies

Brijesh Tiwari, TEAGASC ,Ireland

11.15 -11.40

 

Processing and stabilization of marine raw material with antioxidants

Revilija Mozuraityte, SINTEF Ocean

11.40 - 11.45

 

Summary and discussions with cluster leader and moderator

 

Wenche Uksnøy, Blue Legasea

 

Janna Cropotova, NTNU Ålesund