How seafood can improve brain health?
NCE Blue Legasea hosted a webinar during the NTNU CampusUka about the impact of seafood consumption on the brain.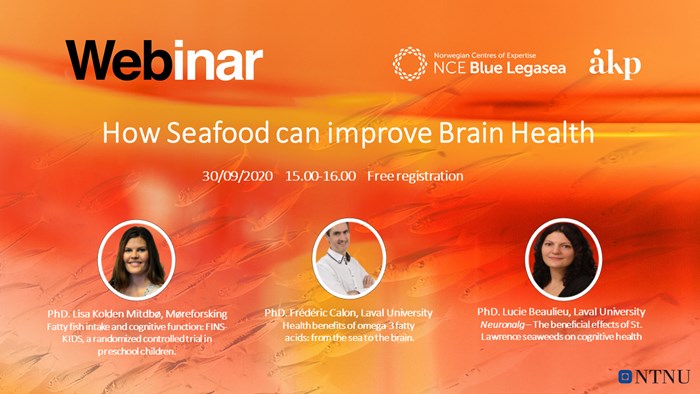 During this webinar arranged at 30. September 2020, our speakers presented their studies about the use of diverse seafood products to support brain health. The impact of fatty fish consumption on cognition in preschool children, the use of omega-3 on the ageing brain and the effect of macroalgae extracts on cognitive function have been discussed. 

Speakers:
LISA KOLDEN MITDBØ: she has a master degree in Human Nutrition and a PhD in seafood and health effects. She currently works as a researcher at Møreforsking AS and she presented results from studies performed at the Institute of Marine Research in Bergen.
FREDERIC CALON: He is a professor at the Faculty of Pharmacy at Université Laval, Quebec city, Canada in neuropharmacology, neurodegenerative diseases and the blood-brain barrier. His team mainly performs preclinical assays testing of nutraceuticals and pharmaceuticals in animal models, as well as neuropathological studies on human brain samples. 
Health benefits of omega-3 fatty acids: from the sea to the brain. 
LUCIE BEAULIEU: She is a Professor Université Laval's Food Science Department. She initiated the research program on the structural and functional characterization of new sources of marine ingredients. She is also the coordinator of the interest group on biomarine products at the Institute of Nutrition and Functional Foods (INAF). 
Neuronalg – The beneficial effects of St. Lawrence seaweeds on cognitive health.