Meet new partner C Food Norway and R&D Manager Margareth Kjerstad
C Food Norway is one of the leading companies in the word finding value in the unutilized resources such as the by-products from whitefish processing. Thus, the company has specialized in the development of seafood based on by-products from the Norwegian whitefish industry.

The company`s vision is to develop more food from the existing whitefish catch and farming. With new product concepts, we grow our market share and contributes to better utilization of existing catch. Main products are dried swim bladder, industrial migas and fisheads. Margareth Kjerstad is responsible for the R&D activities in the company.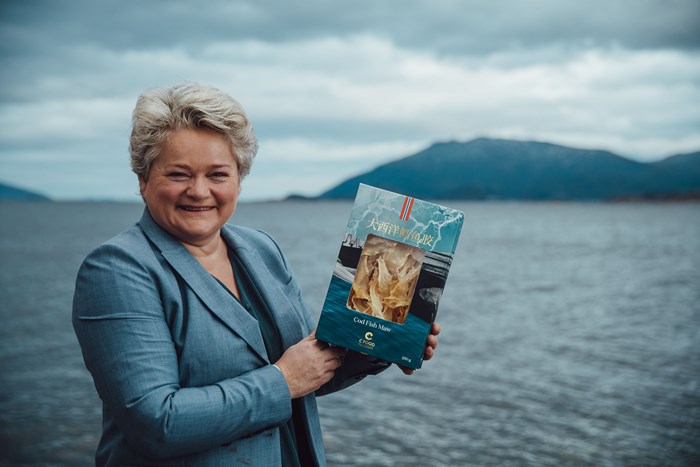 We asked Margareth to share some of her background and C Food Norway`s involvment in the HOLOSUSTAIN project.
Could you kindly tell us a bit about yourself?
I have a Master of Science Degree in Fishery from the Norwegian College of Fishery Science at the University of Tromsø.
During the last 30 years I have worked with topics related to the whole value chain of seafood: from fishery to raw materials, quality, processing, and marketing, in close cooperation with the fishing fleet, processors and exporters. The commercialization of new products, byproducts and underutilized marine resources is a key aspect of my work. I have 29 years' experience as a scientist at Møreforsking. Since March 2021 I have been Head of Research for C Food Norway.
What can your company/organization bring to the HOLOSUSTAIN project?
Møreforsking has for many years been involved in research projects on sea cucumbers. I was project leader for many of those projects. Focus of my research have been the resources, trial fisheries, catching methods, ingredient development, products, and marketing of Norwegian Sea cucumbers. C Food Norway has long experiences with trade and marketing of dried seafood to the global market. One of the owners of the company has several decades of experience with production and sale of dried sea cucumbers to the Asian market. Based on this, C Food Norway can bring important competence and contacts to the HOLOSUSTAIN project.
In your opinion – what is the most exciting development in sea cucumber commercialization the last 2 years?
Sea cucumbers are existing resource with a lot of potential. The HOLOSUSTAIN project has increased the knowledge about sea cucumbers at all levels, from biology, catch, aquaculture, nutrients and bioactive compounds, products and market. It is important to share this knowledge among the partners of the HOLOSUSTAIN platform. In my opinion, it is vital to focus on sustainable fishing and utilization of sea cucumbers. In this context, it is good news that some companies have developed new sustainable catch equipment and can harvest without harming the seabed. Hopefully, the equipment could be efficient for harvesting in a sustainably managed way sea cucumbers in the future.
Contact information:
Margareth Kjerstad
Email:margareth@c-food.no
Tel: +47 995 30 352