Industry 5.0 towards a responsible seafood sector
When The European Maritime Day (EMD) was organized in Brest, France, in May, NCE Blue Legasea participated as speaker and panelist in one of the workshops that were held.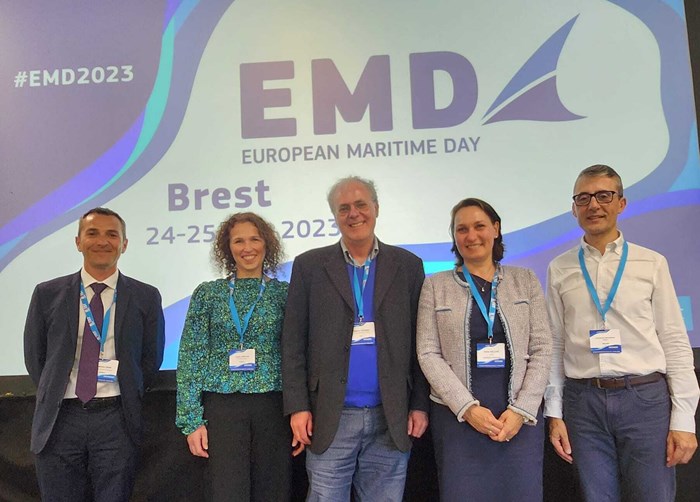 About European Maritime Day 
The European Maritime Day (EMD) is the annual two-day event during which Europe's maritime community meet to network, discuss and outline joint action on maritime affairs and sustainable blue economy. It features a large number of inspirational speakers, thematic sessions, stakeholder workshops and pitch sessions organised by stakeholders and the European Commission. 
Workshop "Industry 5.0 towards a responsible seafood sector".
NCE Blue Legasea's fisheries project manager, Janita Arhaug, was invited to give a presentation and participate as a panelist at a Workshop "Industry 5.0 towards a responsible seafood sector". Her contribution in the workshop was to highlight the challenges and developments in the fisheries sector from a social perspective.

The objective of the workshop was to discuss about the role that Industry 5.0 can play in supporting a more responsible seafood sector. Industry 5.0 is a new holistic concept which provides a vision of industry that aims beyond efficiency and productivity as the sole goals and reinforces the role and the contribution of industry to society. It places the wellbeing of the worker at the centre of the production process and uses new technologies to provide prosperity beyond jobs and growth while respecting the production limits of the planet which resonates with a more resilient and sustainable seafood sector. 
The seafood industry involves many human elements and is both the driver and the subject of environmental impacts. Adapting to Industry 5.0 will be essential to address the associated challenges.This workshop was proposed as part of the work carried out in the transnational project SAFER (Smart Atlantic Seafood Clusters), funded by Interreg Atlantic Area. 
Organisation: European Regions Network for the Application of Communications Technology
Moderator: Jose Manuel San Emeterio, Programme Manager, ERNACT (project leader)
Speakers:
Janita Arhaug, Blue Legasea cluster (Norway), Project manager (former fisherwoman for 10 years)
Sebastien Crom, Directorate of the Sea of Europe in Brittany (France)
Roberto Pastres, Ca' Foscari University of Venice (Italy), Scientific coordinator of the H2020 GAIN project
Aneta Wilems, CINEA (Brussels), Head of Department for natural resources, climate, sustainable blue economy and clean energy (TBC)