Marine Ingredients as Anti-Stress Products: the video is out!
To continue the Marine for Health webinar series about health applications, our next topic was "Marine Ingredients as Anti-stress Products".
Find below the video of the webinar and each presentation of our speakers.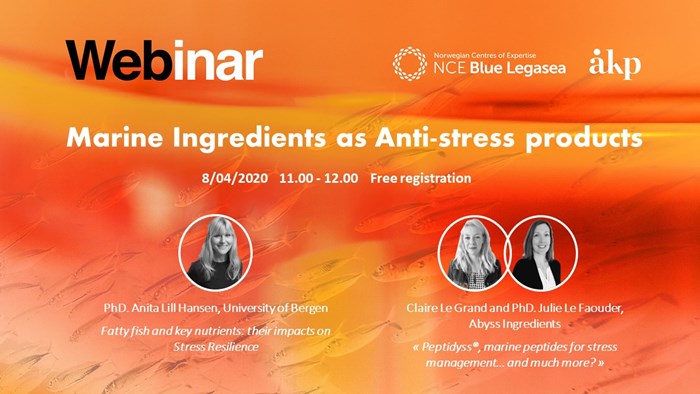 Anita Lill Hansen is a professor in cognitive psychology at the University of Bergen in Norway. She also has a 20% position at the Centre for Research and Education in Forensic Psychiatry, Haukeland University Hospital. Her research experience and interests include experimental intervention studies with both fish and nutrients focusing on the effects on psychophysiology, executive functioning and mental health.  She also has some clinical experiences, and she is certificated as a cognitive-behavioural therapist.
Presentation HERE!
Abyss Ingredients is a French producer and supplier of natural marine ingredients dedicated to the food supplements market. Abyss Ingredients was founded in 2004 by local (Brittany's) fishing industry actors who wanted to valuate fish by-products, wasted until then. Combining innovation, circular economy and sustainability, Abyss Ingredients aims at answering the growing demand for natural health ingredients of a growing aging-population.
Presentation HERE!