About Holosustain
Introduction of Holosustain idea from the project coordinator Dr. Miroslava Atanassova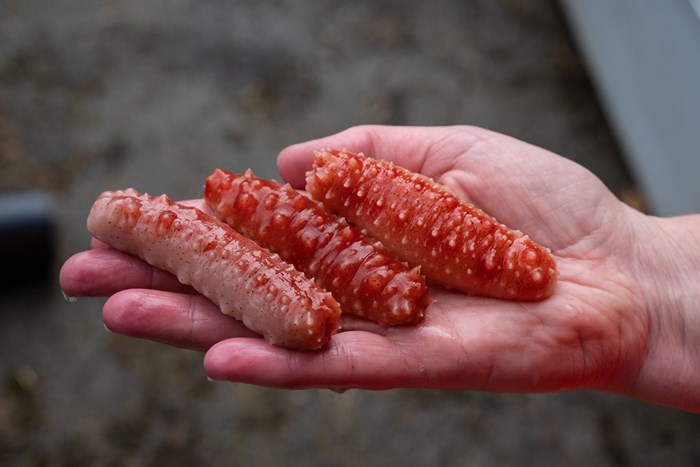 Picture: Møreforsking  - All rights reserved
Sea cucumbers are probably the most intensely researched marine echinoderm group currently, but there is still not exhaustive biological and chemical information accumulated on most of the known species. The warm-water species, traditionally consumed in the Asian countries and appreciated for their health-beneficial properties, are more thoroughly studied than the temperate water species. The available bibliographic information on the latter is patchy and usually with very narrow research focus. 
However, many European and North/South American fisheries have started in the last 20 years to exploit the local species due to the high consumer demand in the Orient and the related high-profit perspectives. Nonetheless, most of the companies involved in the sea cucumber value chains in the Occident express lack of available specialized information support. At the same time, the huge gap in population control data is recognized by the competent authorities for sustainability control on these marine animals. Møreforsking Ålesund has been collaborating hand-in-hand with the Marine Industry in Norway for many years and has been focusing for the past 10 years specifically on studies of the nutritional properties and aquaculture potential of the local "red" sea cucumber species Parastichopus tremulus. 
The HOLOSUSTAIN coordinator Dr. Miroslava Atanassova on the other hand, Senior Researcher at the Bioeconomy Division of Møreforsking Ålesund since 2017, brings long-term research expertise in biofunctional characterization of several Atlantic sea cucumber species, with close focus on their biotechnological innovation potential. Thus, Møreforsking's scientists have identified the need to systematize the available information on the temperate water sea cucumber species in a comprehensive database and provide a searchable information tool as support to the interested SMEs and to possible new stakeholders. This is how the collaboration of leading research groups and SMEs internationally was sought, on basis of their sea cucumbers experience and the HOLOSUSTAIN platform conceived. 
The project consortium identifies itself as a "seed" towards the creation of bigger joint initiatives and critical mass for the obtention of wider support for systematic sea cucumber research and sustainable exploitation worldwide.